WHERE DO YOU START?
StratosMedia delivers a suite of tools that make creation and management of your interactive kiosk content as easy as possible. Our advanced reporting reveals which promotions most appeal to which segments of your customer base. Regardless of your use case, StratosMedia can help you deliver memorable retail experiences that work. Join many world-leading brands in discovering how StratosMedia can deliver solutions to your instore digital challenges.
In modern retailing, the use of interactive touch kiosks to engage with your customers has been proven to deliver significant upside.
Customers are looking for the most frictionless path to acquiring products and information and retailers are looking to create memorable retail with measurable results.
One thing is certain, in the same way, that a person may have represented your brand on the floor historically, a kiosk can do the same. Good or bad, poorly executed kiosk delivery can be as detrimental as a poor employee and frustrating to a potential customer. Great customer in-store experiences influence loyalty and spend, so well executed interactive kiosk delivery can significantly improve in-store experiences and provide great support to your existing sales team.
StratosMedia delivers a suite of tools that make the management of your interactive kiosk content as easy as possible, regardless of your use case.
The StratosMedia difference
Create and manage your digital content and review your display network and its performance from anywhere via the cloud

Create Multi-screen interactive applications for immersive customer experiences

Use our simple interactive visual content creation tools to build and deploy your in-store interactive displays

Gain rich data insights into audience engagement. Track navigation, session times, and the path of engagement using advanced user analytics including anonymous gender and age analytics.

Enable frictionless handoff to mobile via our built-in QR code generator and/or NFC

Integrate SMS, MMS and email send capability to connect directly with your customers

Measure online to offline conversions and drive continuous improvement whilst gaining insights into your customers' shopping habits

Integrate survey capability to gain audience feedback from your kiosk locations in real-time

Create multi-screen interactive applications for an immersive customer experience

Build self-service and check-in solutions including keyboard login, QR and barcode scanning and printer options for loyalty redemption**

Integrate remote assistance applications for real-time two-way interactions**

Build personalized  kiosk experiences for out of hours staff training 

Custom API integration available to work with the data from your existing services
A strategically placed interactive kiosk can draw in window shoppers, boost foot traffic, influence the purchasing decisions and maximize the average transaction. And when your team is busy, providing compelling information can make the difference between a sale and a walk-out.

Survey Tool
Monitor user engagement via reporting and trigger desired content by utilizing our inbuilt anonymous gender and age analytics tool.
Data Carousel Tool
Online to Offline Conversion
Measure and report on user navigation, and online to offline conversions, to drive continual improvement across your business.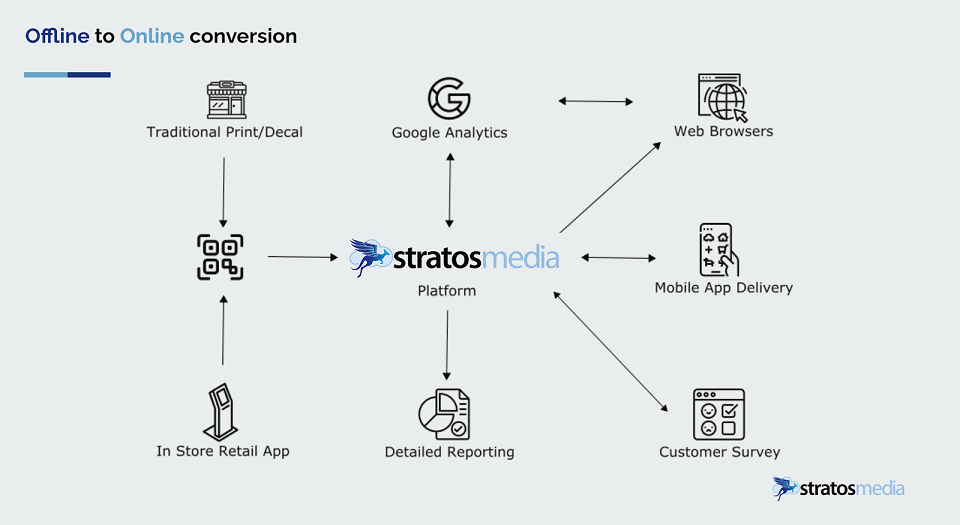 Step 1
A QR Code can either be printed and displayed via traditional print, or via a add on decal.
Or a custom QR code is generated on the fly off a digital signage or Retail Application Display.
Step 2
StratosMedia processes the URL sent by the phone and then can either send it to either a targeted page on the website, Mobile App or Progressive web app, or off to a StratosMedia survey or mobile retail application. 
Step 3
Either the website or mobile app can send data back to Google analytics, for example, for tagging and user_id customer profiling, as well as send information back to the StratosMedia platform for real time reporting.
Step 4
StratosMedia can then analyze data from google analytics as well as pair it with metrics gathered from the insights gathered from the store, to build a complete picture.
Step 5
Detailed reporting can be created and presented from all the data providing a complete insight into the consumer process.