All that is required for content creation, delivery and network management, is a computer with an internet connection to access the StratosMedia core platform. Your remote playback devices require internet connectivity via cable, Wi-Fi or mobile data connection. Content can be played back by the local device or streamed, or any combination required, importantly all with class-leading security.
The StratosMedia video wall tool set allows you to create and deliver your content, your way.
Using industry-leading technology, our video wall builder enables you to create, deliver, and manage, even the most complex of video walls in minutes. StratosMedia video wall tool set supports all styles of hardware configuration, screen technology and can manage very large-scale native pixel counts.
Save Money.
Our video wall tool set makes video wall installers' life a breeze, saving you money in the cost of deployment. No expensive video wall scaling hardware or complex wiring is required to deliver stunning ultra high-resolution video walls, lowering the cost of implementation.
Save time in content management with no splitting/slicing of media required.
Content managers access the StratosMedia core platform via the Chrome browser and build content as a single palette, seeing exactly where all content will be displayed on the wall. We have embedded a customizable video wall template to aid the design process, ensuring pixel-perfect content positioning. You can add all video/data/live feeds/pictures/schedules/flows in a single view, then save and send to the hardware powering the video wall. That is it. No splitting or trying to manipulate content and then needing to reconstruct it later.
Deliver broadcast quality video.
As all content is created and played back at the total resolution of the video wall, you do not need to upscale any videos or images. Upscaling always results in pixelated images and fonts and grainy videos, which deliver a poor viewing experience, especially if your audience is physically close to your wall.
Building an ultra high-resolution wall needing multiple playback devices? No problem!
StratosMedia has a single solution – that covers all video wall architecture – from a single PC with multiple graphic outputs to a multi-PC array.
Map the layout of a single or multimedia player video wall, regardless of resolution or orientation, in minutes, saving time and money. Once your video wall is mapped, use the custom video wall template in the StratosMedia scene builder to drag and drop your media content anywhere on the video wall canvas. Your video wall template displays your full video wall and the boundaries of individual panels. This takes the guesswork out of media positioning in the content design process, especially if you wish to move between content per display or region and a full video wall takeover. Regardless, if you use a single or multiple media players to drive your video wall, content creation ease of workflow remains the same.
Want to create an interactive video wall? With the appropriate display hardware and/or peripherals, we have this covered too with no coding required.
Easy drag and drop functionality

Support all display resolutions and custom aspect ratios including LED walls*

Single or multimedia player options with no external video processors required

Playback native resolution of the array at broadcast quality

Video wall templating used for fast multi-site deployments

Integrate external data sources and third-party platforms via API

Add interactive touch components**

Control from kiosk
Talk with us today about the right hardware and how to use StratosMedia to deliver the best that your video wall can offer.
here
Your creativity is in your hands.
VIDEO WALLS & LARGE FORMAT DISPLAY examples
Customer Content
Alexander Wang
Alexander Wang is a world-renowned retailer of award winning urban wear clothing, shoes and accessories for both men and women. AW has 15 stores worldwide with an e-commerce site that ships to more than 50 countries.
The Challenge
To deliver content at native resolution [13320 x 1440] to an 84ft LED wall
Global deployment with central cloud management from the US
The requirement to deliver rich media content with minimal bandwidth use
Drive any display and allow for flexible in-store digital design
The StratosMedia Solution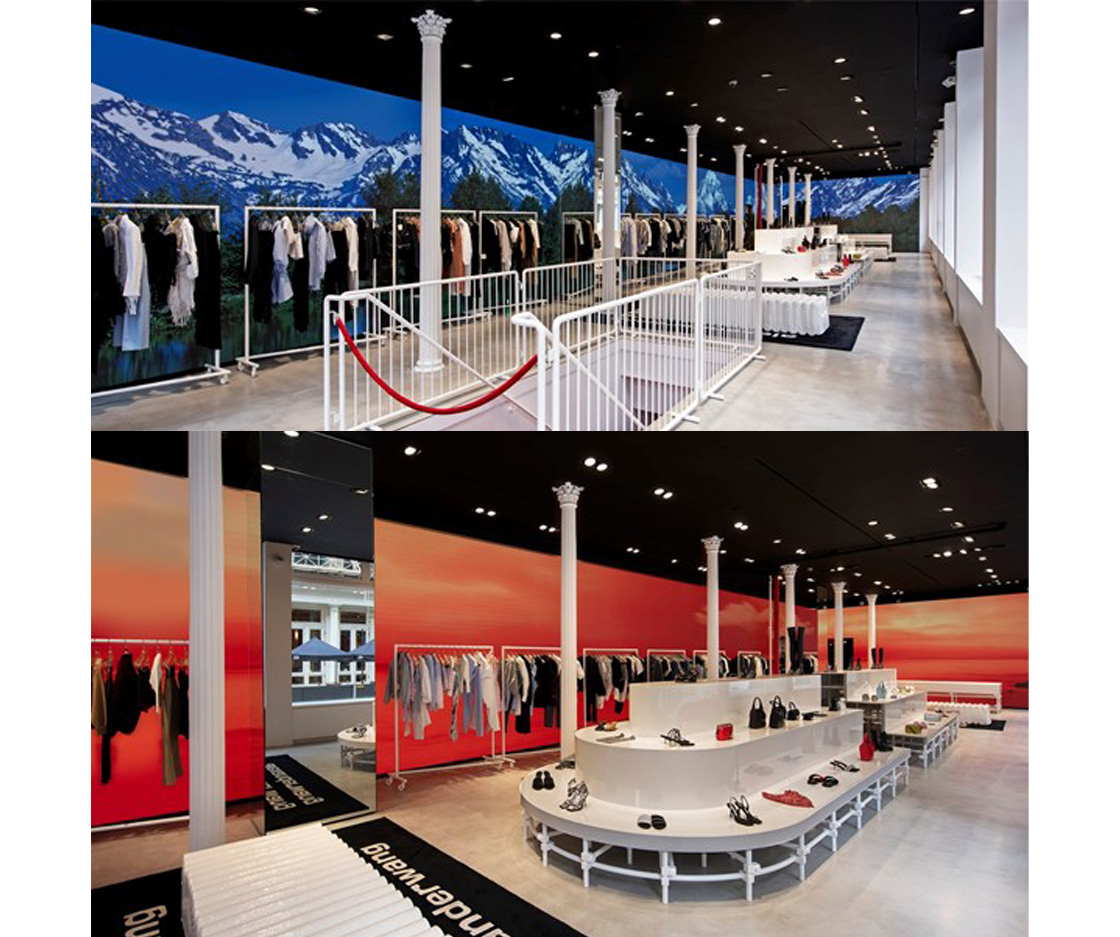 Visual High Impact Video Walls
Advance Publications, Inc. – Condé Nast – One World Trade Center Corporate Offices
Attracting more than 100 million consumers across its industry-leading print, digital, and video brands, the company's portfolio includes some of the most iconic titles in media.
The Challenge
Create a stunning dynamic digital experience for their visitors and 3,400 employees that compliments the stunning views from the One World Trade Center offices in Manhattan
Help create brand ambassadors throughout their offices by educating in compelling digital ways, creating beautiful, visually arresting moments that inspire employees, thus driving their iconic brand
The StratosMedia Solution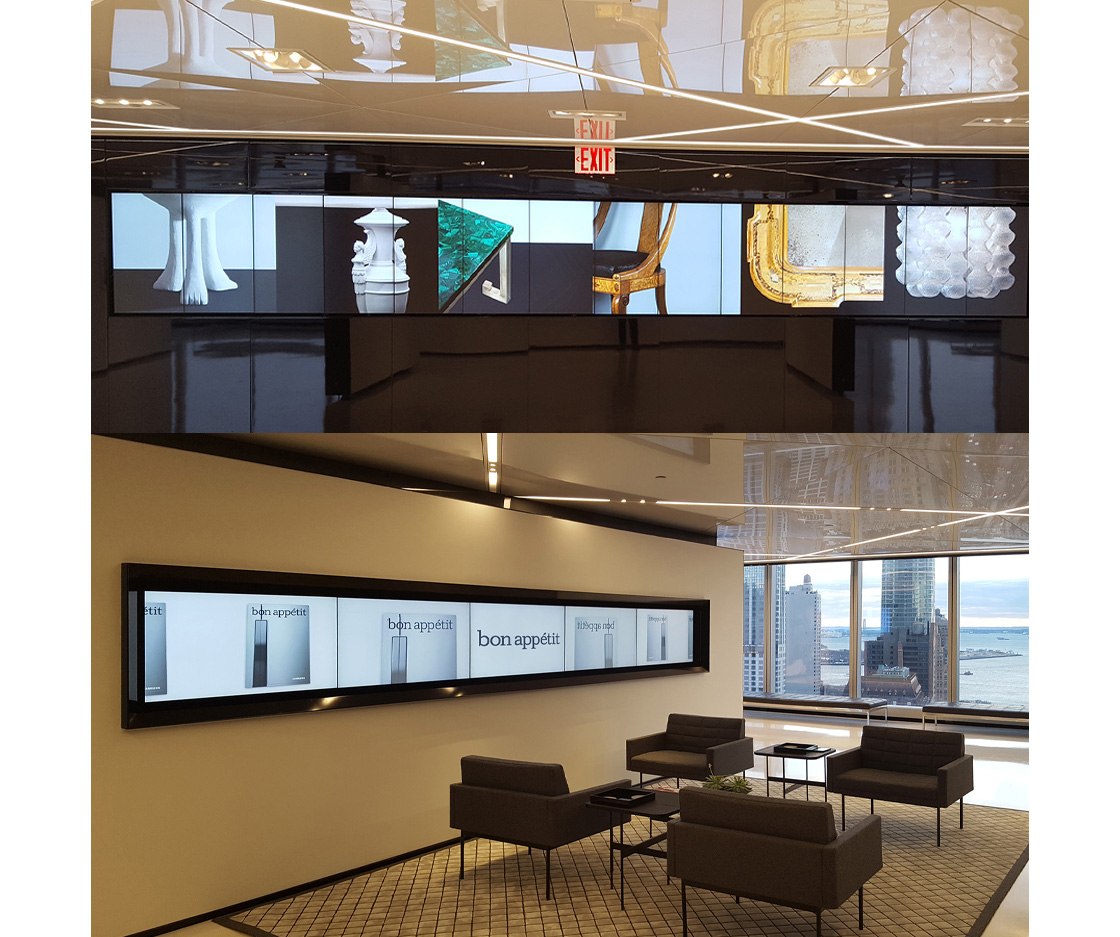 Corporate Content
Jones Lang Lasalle – JLL
JLL is a commercial real estate services company. The company also provides investment management services worldwide, including services to institutional and retail investors, and to high-net-worth individuals.
The Challenge
Provide maximum impact on LED wall in the main reception and replace poor performing incumbent CMS
Deliver corporate messages and brand campaigns
Provide entertainment and information to visiting partners and suppliers
Integrate with existing Google communication methodologies to minimize double handling
The StratosMedia Solution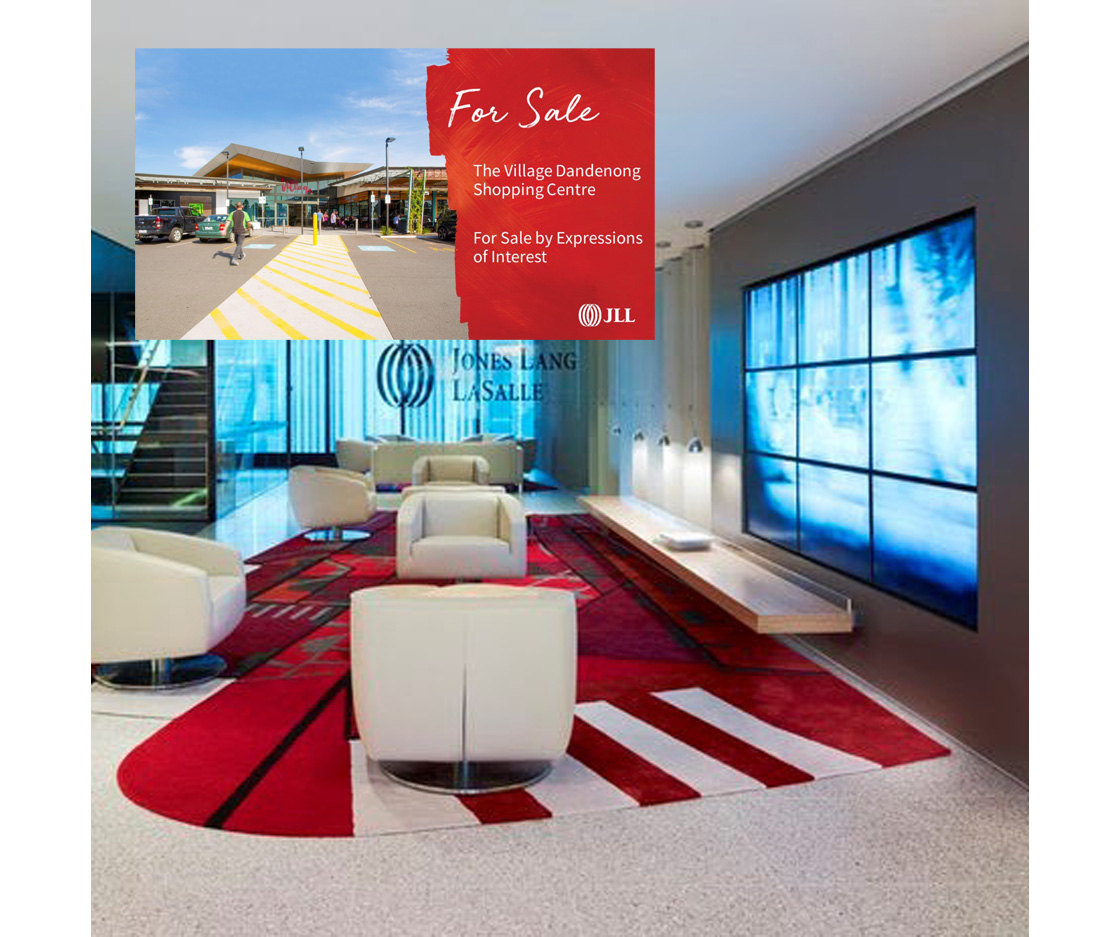 Information Kiosk & Video Walls
Lexus USA – Lexus Corporate Headquarters & Dealerships
Lexus takes inspired design, relentless innovation, and uninhibited performance and turns them into passionate, moving experiences.
The Challenge
Increase employee engagement, reinforce corporate culture and communicate a consistent brand message through a new dynamic, video-centric, digital communications platform
Integrate legacy interactive content into a new platform
Create a custom API integration with Lexus's existing asset management software
The StratosMedia Solution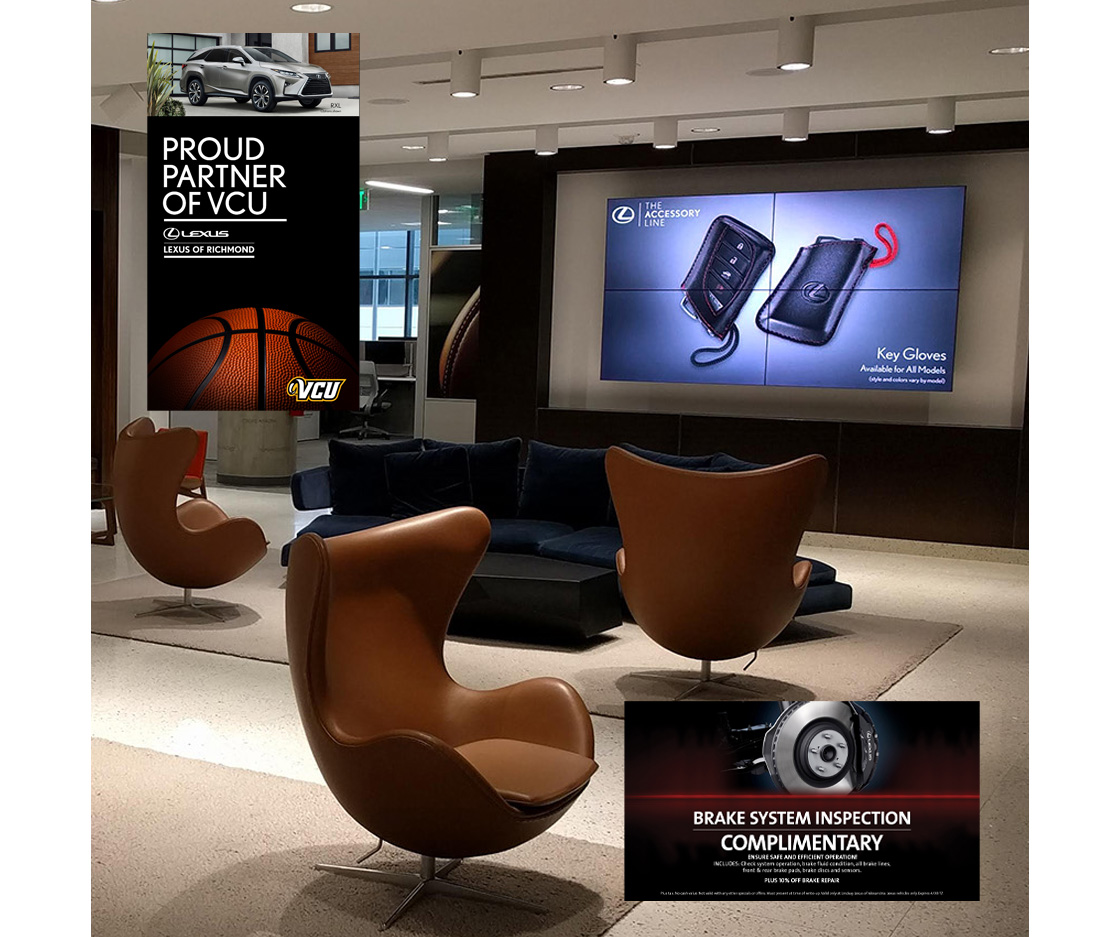 Informational Video Walls
University of South Carolina (USC) – Strom Thurmond Fitness Center
The Center provides a world-class facility to promote healthy lifestyles and recreational activities.
The Challenge
Drive a centrally located, oversized dynamic LED ribbon board to improve information flow to students, and highlight the university's technical innovation
Display dynamic information about events, schedules, room and meeting bookings, and university news by integrating existing data
Implement easy to use software for personnel with limited technical expertise
The StratosMedia Solution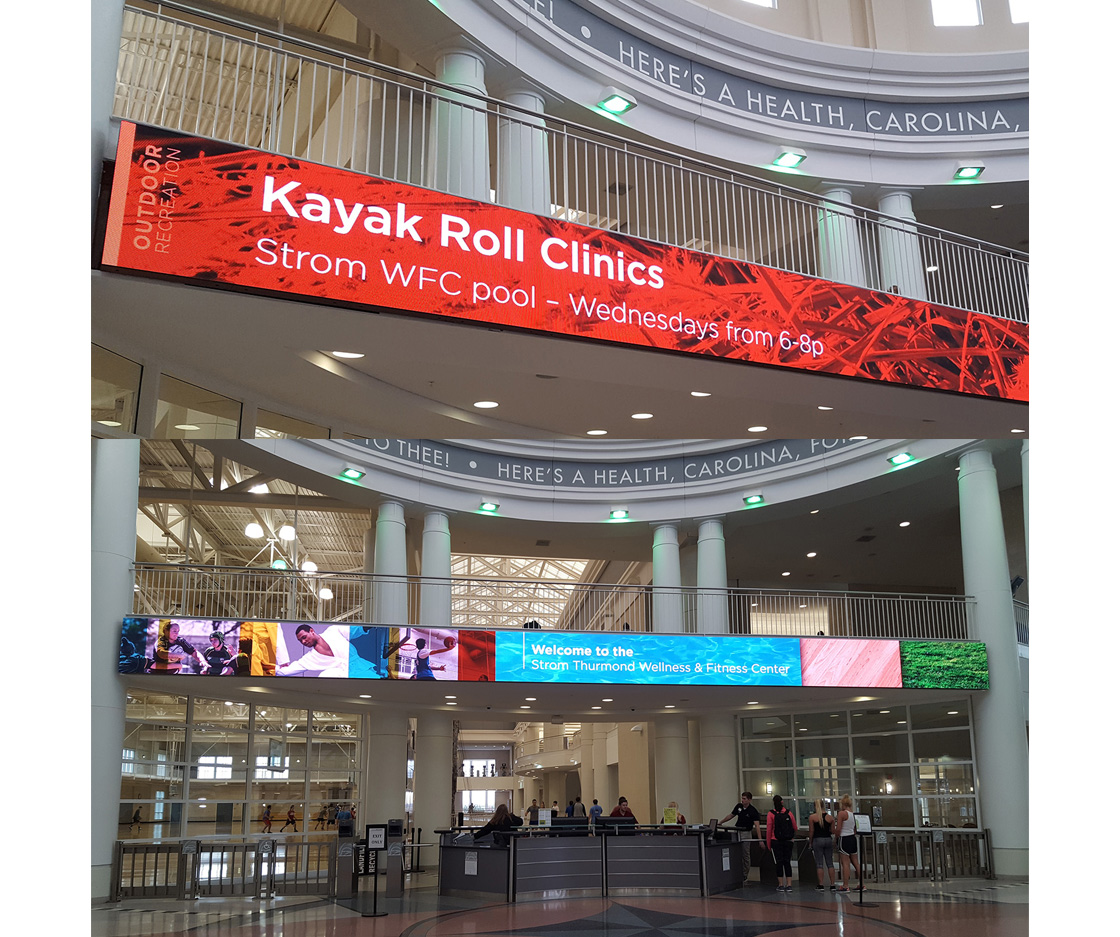 Informational Video Walls
Woolworths Group – Head Office
Over 201,000 team members are serving more than 29 million customers across multiple brands throughout Australia and New Zealand.
The Challenge
Provide maximum impact on the LED wall in the main reception and replace poor-performing incumbent CMS
Deliver corporate messages and brand campaigns
Provide entertainment and information to visiting partners and suppliers
Integrate with existing Google communication methodologies to minimize double handling
The StratosMedia Solution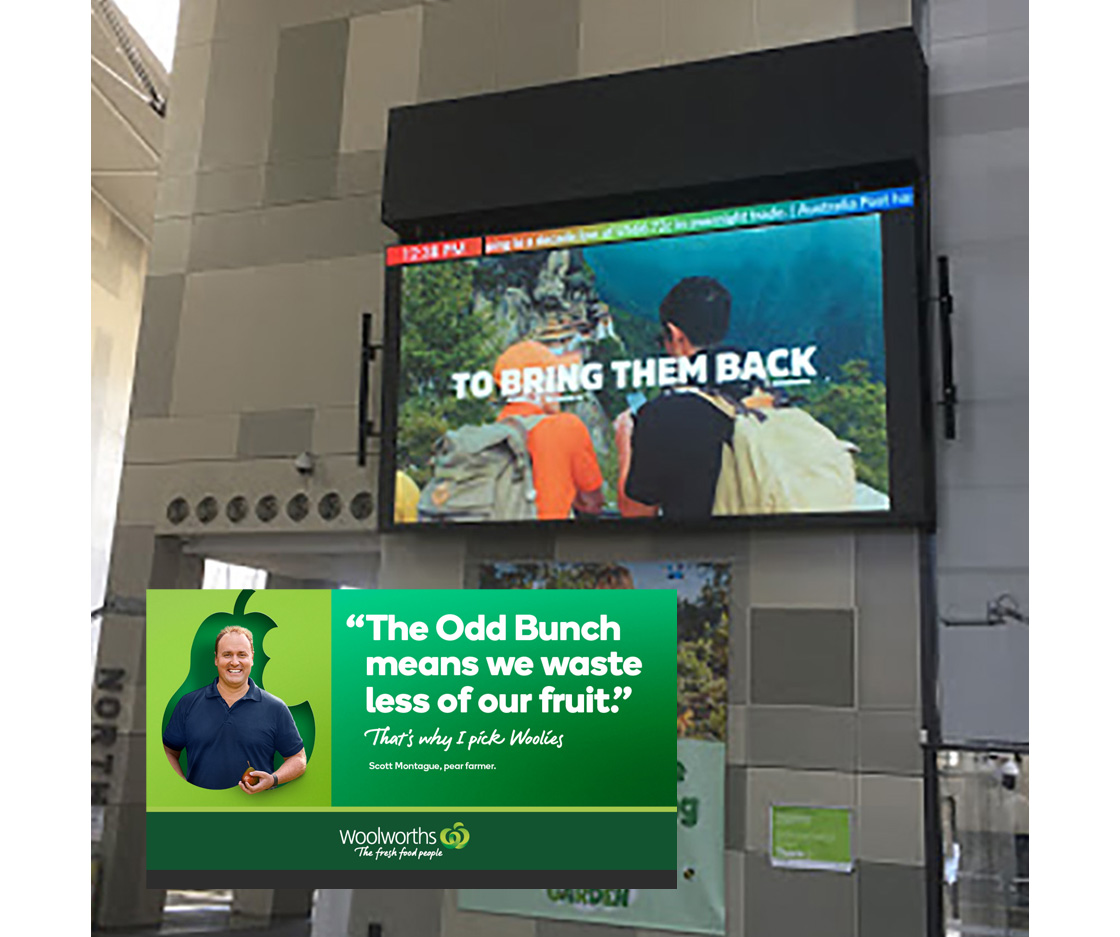 Easy build video wall tutorial
Examples of Hardware Configurations
Scenario 1: SINGLE PC
10 x 1 FHD Video wall = 19,800 x 1080 Resolution
(Multiple Screens up to 32,000 pixels)
1 x Win10 PC
1 x StratosMedia Player Licence
Multiple GPUs
Each screen has a unique HDMI / Display Port Cable
Content is created in the StratosMedia Scene Builder in the native resolution of 19800 x 1080
Scenario 2: Multiple PCs
10 x 1 FHD Video wall = 19,800 x 1080 Resolution
(Multiple Screens up to 32,000 pixels)
10 x Win10 or StratosOS PCs
10 x StratosMedia Player Licences
Each screen has a unique HDMI/Display Port cable
Content is created in the StratosMedia Scene Builder in the native resolution of 19800 x 1080
Scenario 3: Daisy Chain screens (old school)
2 x 2 FHD Video wall = 3840 x 2160 Resolution
(Screens configured using screen manufacturers' daisy chain technology
1 x Win10 or StratosOS or Chrome OS PC
1 x StratosMedia Player Licence
The first screen is connected to the PC by Display Port and then a pass through cable is connected to screen manufacturers' set up on each screen

here