StratosMedia and Chrome OS,
redefining enterprise out of home display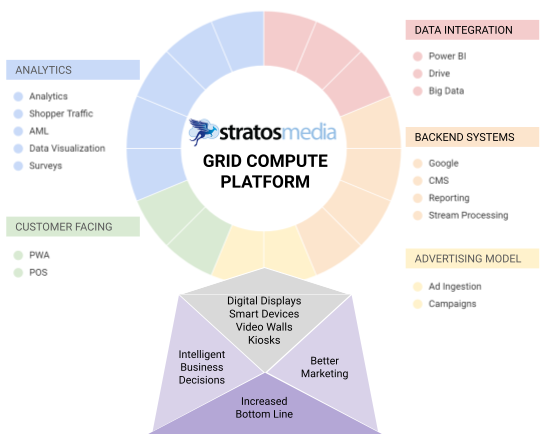 Since 2014, StratosMedia has been supplying content management, video delivery and audience engagement analysis solutions for users in the Google Chrome OS ecosystem.
StratosMedia's visual content management and analytics solutions on Chrome OS have been delivered to diverse markets across the globe. Spanning Corporate Communications, Directional and Event Display, Quick Service Restaurants, Retail and Point of Sale, Education, Transportation and Manufacturing, a significant number of organisations have enjoyed the operational and financial benefits these solutions have delivered. 
Digital out of Home (DOOH) advertising networks of scale and large geographical span have been delivered on Chrome OS also, leveraging Google's Enterprise Management in conjunction with StratosMedia's dedicated advertising Campaign management toolset. 
No matter your use case, StratosMedia and Chrome OS have got your visual display and audience engagement analysis needs covered. StratosMedia was the first solution provider in 2018 to deliver both Digital signage playback in conjunction with optical Gender and Age analysis of audience engagement, simultaneously from a single Chrome OS device. As of today, it is still the only solution to be able to achieve this feat.
StratosMedia delivers deep integration with Google Apps and services including Google Sheets, Drive and Calendar, Tensor Flow, Analytics, API's for ease of content management, display and reporting. These integrations make managing out of home messaging and engagement reporting friction-free, delivering significant operational efficiencies. 
StratosMedia's Google integrations are so deep, that the StratosMedia service itself in fact resides on Google Compute infrastructure.
StratosMedia on Google Chrome OS, delivering unparalleled ease of use, security and reliability.
StratosMedia hosted cloud CMS, available anywhere, anytime for friction-free content management.
Manage ten or thousands of displays with ease
Local storage and playback of distributed content, delivering reliability and reducing network load.
Create, deliver and display your digital visual content to any display, no matter the size or resolution.
Create and deliver interactive kiosk experiences whilst having the power to create and deliver interactive expenses to mobile devices via progressive web applications.
Create, deploy, and manage dynamic QR codes for content hand off to mobile devices with reporting on audience engagement.
Optical Gender and Age analysis built-in, providing audience composition and engagement insights
Add Chrome OS powered hardware and Chrome Enterprise Management for a complete cloud solution that delivers
Ultra high levels of security
Low maintenance
Remote management of content and hardware
StratosMedia hosted in Google Cloud, running on Google Chrome OS powered hardware, managed by Chrome Enterprise Management
. . . one ecosystem delivering a solution that simply works.

StratosMedia's hybrid cloud communication management platform provides a complete set of embedded applications and tools for advanced enterprise digital signage, corporate communications and digital advertising networks. A platform that empowers businesses, advertisers and institutions to create, deliver, measure and monetize visual and interactive experiences on any device and media outlet.
Advanced Retail Applications
Customer experience/Help Me Choose product carousels/Information and promotional kiosks/Survey feedback terminals
QR Code handoff to mobile devices for takeaway content and online-offline delivery in a touchless environment

Visit our USE CASES in these links: Conquest Staging | HP | Queensbay Mall
Digital Menu Boards
Quick Service Restaurants/Hospitality/Food Courts/Malls/Stadiums/Airports

Visit our USE CASES in these links: OPORTO | Mulgrave Country Club | Suncorp Stadium | Olio Cafe BCEC | Red Rooster
Reports and Data Analysis
Anonymous Gender and Age Analysis/Real time and historical insights
Just a single device is required for both playback and AI/ML functions
Detailed and Summary Reports are user customizable for all aspects of StratosMedia

Directional and Event Information Signage
Corporate/Education/Convention and Exhibition Centres/Sporting Arenas/Airports/Hotels
Way Finding Display including Automated Directional Arrows based on actual location of Screen in relationship to Meeting Rooms
Data driven content linked to internal and external sources

Visit our USE CASES in these links: Brisbane Convention and Entertainment Centre | Dulles airport and Reagan airport
Corporate Digital Signage Applications
Corporate messaging/Brand awareness/Self-paced personnel training

Visit our USE CASES in these links: AXA | Owens Corning | Woolworths