QR Code Tools & Reporting
More and more organizations are relying on QR Codes to engage with their customers on a daily basis.
The pandemic has seen QR codes become the gold standard as a means of quickly directing customers mobile devices from either physical or digital displays to online content.
As part of its Visual Content Management platform, StratosMedia now delivers the ability to generate, manage and report on QR codes utilised in both digital display content and physical media.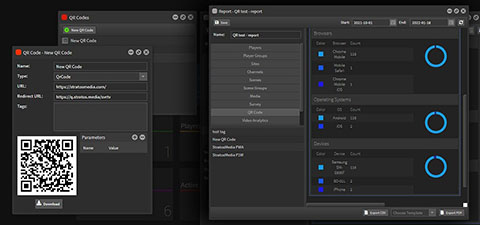 Both onscreen and downloadable reports are available, providing actionable data into audience engagement and message delivery success via QR code.
Users are empowered to modify StratosMedia generated QR code's ultimate online destinations, without the QR code itself changing. This ability removes costs and waste associated with reprinting and deploying new QR codes on printed material augmenting digital display messaging.
Included with StratosMedia's Enterprise Platform at no extra cost, the QR code Toolset removes the need for standalone 3rd party QR code/URL referral services, further increasing return on investment. This all adds up to a big win for retailers or any organisation looking to engage fully with their audience beyond their physical space.
If you need help with QR codes or to find out more about how you can increase and measure your audience engagement beyond digital signage, please reach out to helpdesk@stratosmedia.com
_________________________________________________________________________
GooDay Japan partners with StratosMedia creating new technology standards
in their home centers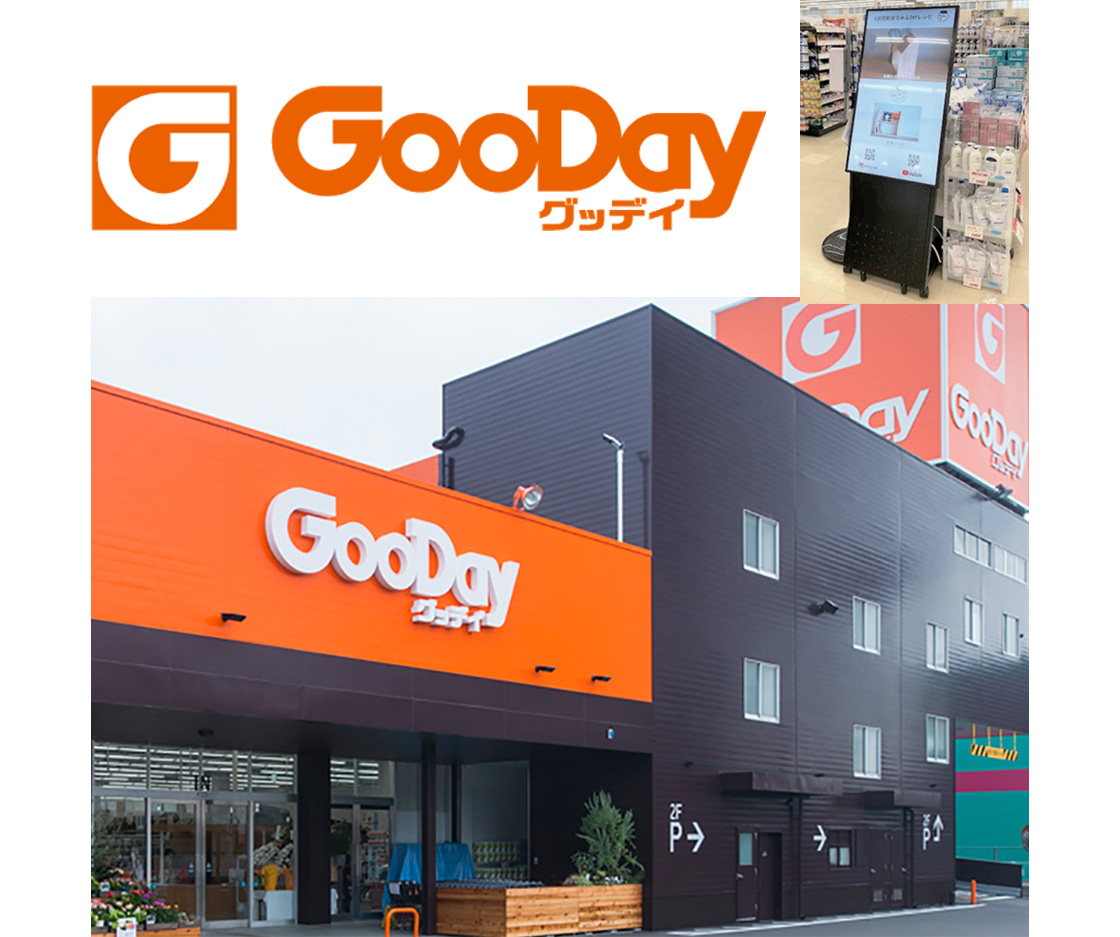 GooDay are promoting offline to online uptake using QR codes to create take home content for their customers
Based In Kyushu district in Japan, Kaho Radio Holdings Co., Ltd operates 64 Gooday DIY home centres throughout the region.
As an innovative retailer Gooday are constantly looking to evolve and improve their in-store experiences by incorporating new ideas and technology creating new standards for their home centers.
Gooday have entrusted StratosMedia as their Content Management System of choice to manage their digital display advertising content across all stores. Densan System Co, Japan. delivered a complete low touch solution by utilising StratosMedia, ASUS Chromeboxes and Chrome Device Management enabling total management of both hardware and software in the cloud.
In less than 12 months the key deliverables of increased customer engagement and increased sales of promoted items via digital signage have been achieved.
Mr. Takaki Iwahashi, General Manager of Marketing, Kaho Radio Holdings Co., Ltd stated "We are working to increase sales for both manufacturers and stores . . . it has been effective, with sales increasing by about 30% compared to the same period last year, and the number of suppliers that repeat advertise is increasing" (sic)
Ms Ikuyo Irie, Marketing Kaho Radio Holdings Co., Ltd said "I've heard from the store managers that the appeal of the video content being delivered is really high. Questions about promoted products being shown on the displays have picked up on the sales floor" (sic)
The use of handoff to smart devices via QR codes has also been a success. There has been a strong uptake of users utilising QR codes to access the Gooday DIY videos hosted on Youtube for later referral when they get home to start their DIY projects. Reporting on QR code engagement comes as standard in the StratosMedia offering and has been valuable to Gooday for measuring their ROI.
View DSK Japanese press release here.
For more information please reach out to sales@stratosmedia.com
_________________________________________________________________________
StratosMedia releases StratosOS
A new Operating System purpose built for Digital Signage applications
StratosOS has been created by StratosMedia as an ultra-secure operating system pre-loaded with the StratosMedia player engine to solve the issues created by PCs running disparate systems for digital signage.
StratosOS will convert any X86-64 architecture PC into a "Cloud Controlled Appliance" with no user-configurable settings required at device level, all hardware management is in the cloud, creating a very secure ecosystem.
StratosOS is the perfect solution for Digital Signage, Kiosk, ML, AI and IOT applications using the StratosMedia platform in retail, QSR, public places, corporate communications, museums and all environments where security and great performance are mandatory.
Take Advantage of Enhanced Security
No remote desktop applications required to manage hardware
Totally cloud managed with no requirements for manual updates
No ability for OS to be used for 3rd party applications – totally secure
Configure network settings – wired and wireless
Repurpose Existing Hardware
One of the best features of StratosOS is that it is incredibly light and fast, designed to use the minimum compute resources on your device. As such, it is perfect for breathing life back into older X86-64 PCs, dramatically reducing your TCO whilst reliably delivering great content and data.
The embedded management console allows you to control from one to tens of thousands of StratosOS devices.
All key features and settings are controlled through the StratosMedia console and populated to the device; these include:
Set desired video output, resolution, and rotation
Set time-zones
Remote restart
View real-time playback of content by device
Monitor hardware health
Monitor CPU and memory usage
Monitor hardware temperatures
Screen capture
No unwanted update notification pop ups
Stratos OS and StratosMedia applications are sold as an SaaS model.
_________________________________________________________________________
Conquest Staging Australia partners with StratosMedia for memorable and measurable retailing experience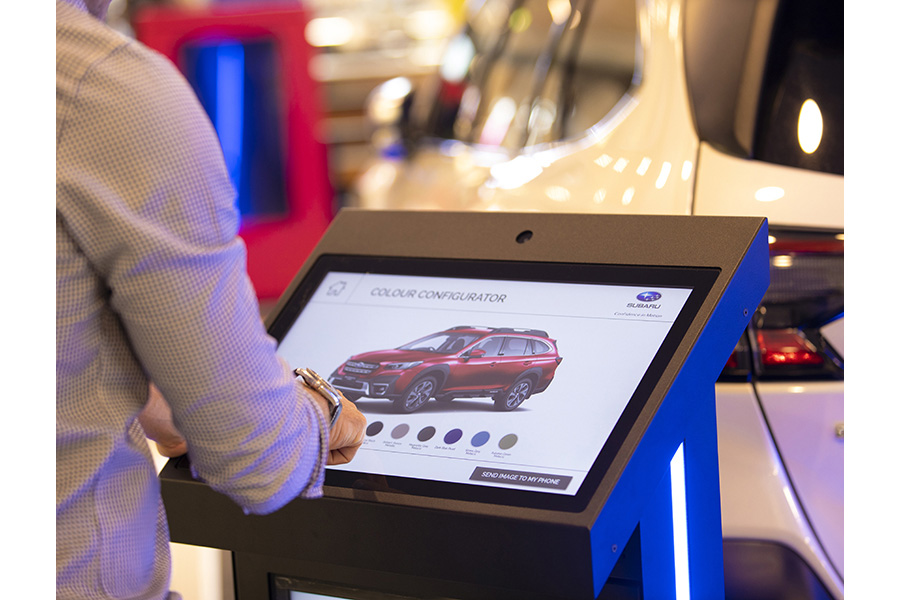 Conquest Staging choose StratosMedia's advanced kiosk capability to drive their innovative interactive stages across Australia
With a background in the automotive industry for over 30 years, representing major brands, Conquest Staging founder, Tristan Kurz, witnessed first-hand the sharp decline in visits to showrooms by the car buying public as customers' pre-purchase behaviour changed.
"We believe that physical retail is now at the precipice of a new chapter where brands will help fill their sales funnels with fresh opportunities by creating high-impact, short-term retail activations in high-traffic areas.
We recognized the need to take our product direct to our customers in a friendly and customer driven interactive experience, the requirement to capture in real time, deep visitor analytics and importantly in this age of COVID the ability for the customer to take away the full kiosk experience on their mobile phone without having to download an app or use a touch screen. The uptake on this aspect has been fantastic."
Tristan Kurz, CEO, Conquest Staging Australia
Each Conquest stage is equipped with two Discovery Stations. Conquest Staging employed leading Australian CMS company StratosMedia to deliver a dynamic and interactive experience that allows shoppers to engage with either the Discovery Station at the centre or, by scanning a QR code, to take the full experience with them on their smart device for interaction anytime.
Visitors can discover targeted information on the most asked top-of-funnel questions and have a range of features at their fingertips. They can book a test drive at their home or dealership, have content sent to their mobiles as an SMS or MMS, use the Car Configurator to change the colour of the vehicle to the exact manufacturer's colour code and much more. StratosMedia's reporting capability means each time a shopper requests information, a trackable lead is generated for the participating dealer.
"We totally embrace Tristan's vision for creating modern and memorable retail experiences. Our StratosMedia platform is used to create and deliver a dynamic and interactive experience to drive customer engagement that can transition seamlessly from kiosk to mobile. Advanced analytics reporting then captures the customer journey, leads generated, and extremely detailed audience analytics using Computer Vision providing tangible ROI for every activation."
Brian Hammett, CEO, StratosMedia
"We are proud to be the first in the world to use the ASUS Fanless ChromeBox hardware and to have partnered with StratosMedia, Google and Design to Production to deliver an enormously powerful product."
Tristan Kurz
_________________________________________________________________________
Alexander Wang NYC partners with StratosMedia for their flagship SoHo store to deliver dramatic ambience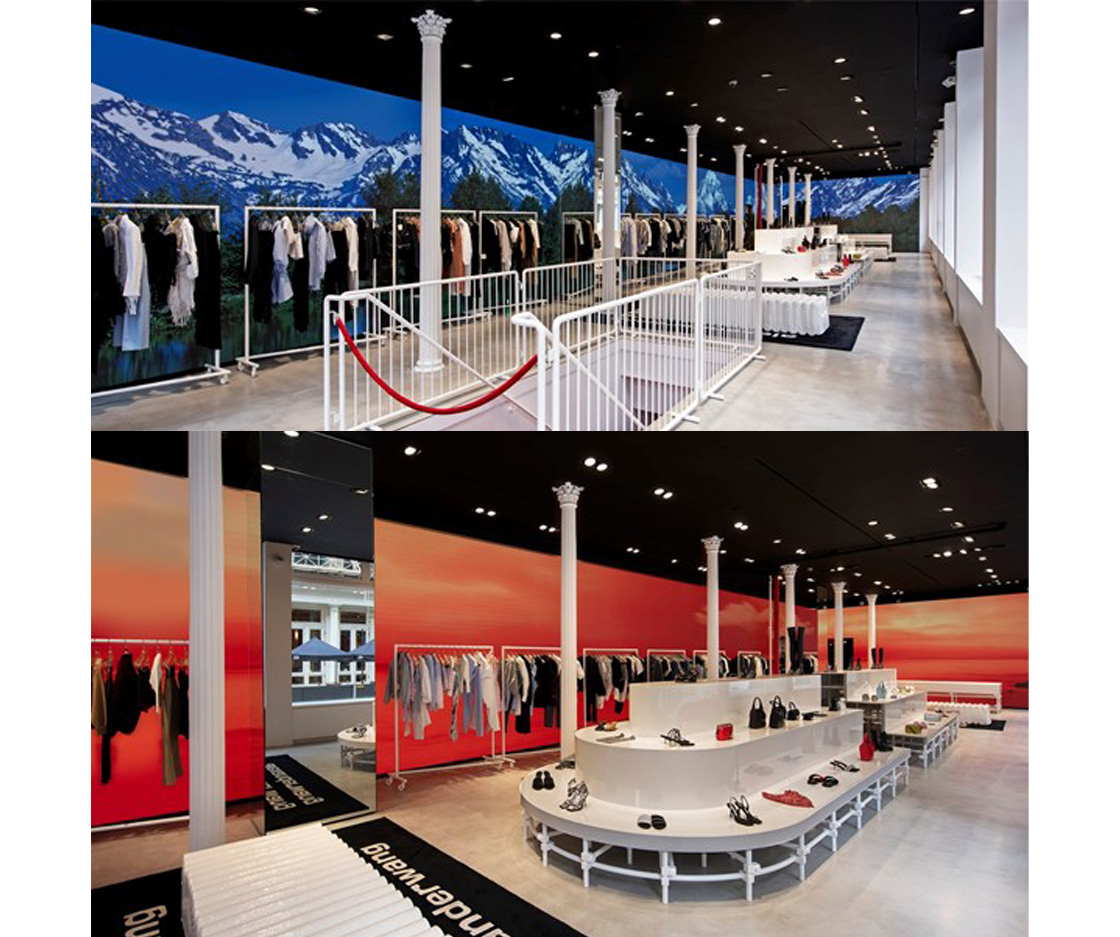 Alexander Wang chooses StratosMedia's specialised video wall toolkit to drive their 84-foot LED wall in the SoHo flagship store
World-renowned fashion designer Alexander Wang is inspired by sports and streetwear but has a keen eye for fabric and creative design. Wang's youthful spirit has revolutionized urban wear. His award-winning label adopts elements of New York's street culture and nightlife.
It's no surprise that the recent renovation of his SoHo flagship store in New York is yet another manifestation of his brilliance. True to form, the interior is immaculately beautiful and reflects the aesthetic of his iconic brand.
The piece-de-resistance of the SoHo interior is a colossal 84-foot LED video wall which spans the entire side and back wall of the retail store. Leveraging StratosMedia's powerful processing and rendering engine, the seamless LED canvas delivers crisp, pixel-perfect images at a resolution of 13320 x 1440.
It's a progressive and bold example of how visual merchandising can become an art form.
"This innovative spatial experience is supported by strong visual content, which provides endless possibilities for creative expression. The vibrant and dynamic video wall demonstrates how an immersive consumer experience is vital to not only retaining customers, but to attracting them in the first place. The interior video wall is strategically placed to be seen from both streets of the store's corner location. It is a perfect example of catching your customers' eye and building anticipation for what awaits them inside.
We are looking forward to being part of growing the Alexander Wang brand by expanding this flagship store concept around the world"
Brian Hammett Chairman, StratosMedia Inc
StratosMedia has delivered a wonderfully dramatic ambiance and has truly transformed the shopper's experience in this new flagship space.
The StratosMedia video wall tool set allows you to create and deliver your content your way. Using industry leading technology our video wall builder enables you to build and manage spectacular video wall content in minutes and supports all styles of hardware configuration and screen technology
Easy drag and drop content design functionality
Support all display resolutions and custom aspect ratios including LED walls
Playback native resolution*
Video wall templating for ease of design and ongoing content management.
Integrate external data sources and third-party platforms via API
Add interactive touch components*
Control content on demand from a standalone multipurpose kiosk
(*hardware dependant)
View case study here
_________________________________________________________________________
StratosMedia releases API Definitions Tool
Making connection to third party applications easier than ever
StratosMedia empowers you with the tools to connect to and ingest data from third-party services with an available API without the need for third party API code building applications.
Saving you time and frustration managing data for display.
Rather than being dependent on a "dedicated widget" being delivered by your CMS provider, the "API definitions" tool by StratosMedia gives you the power to connect to the services you use from within the StratosMedia platform. When the connection to your third-party service is made and configured via the API definitions tool, all dynamic data ingested becomes available in StratosMedia as a "Data Source".
Once this dynamic data source is created live data can be used as part of your visual design with total flexibility
If your data needs to be displayed in tables or even as a graph at the display, StratosMedia has you covered. With an extensive design toolbox, your 3rd party live data may be visually served to your audience your way.
The StratosMedia API Definition tool is free with all StratosMedia Enterprise Accounts
_________________________________________________________________________
ASUS Fanless Chromebox Powers StratosMedia Digital Signage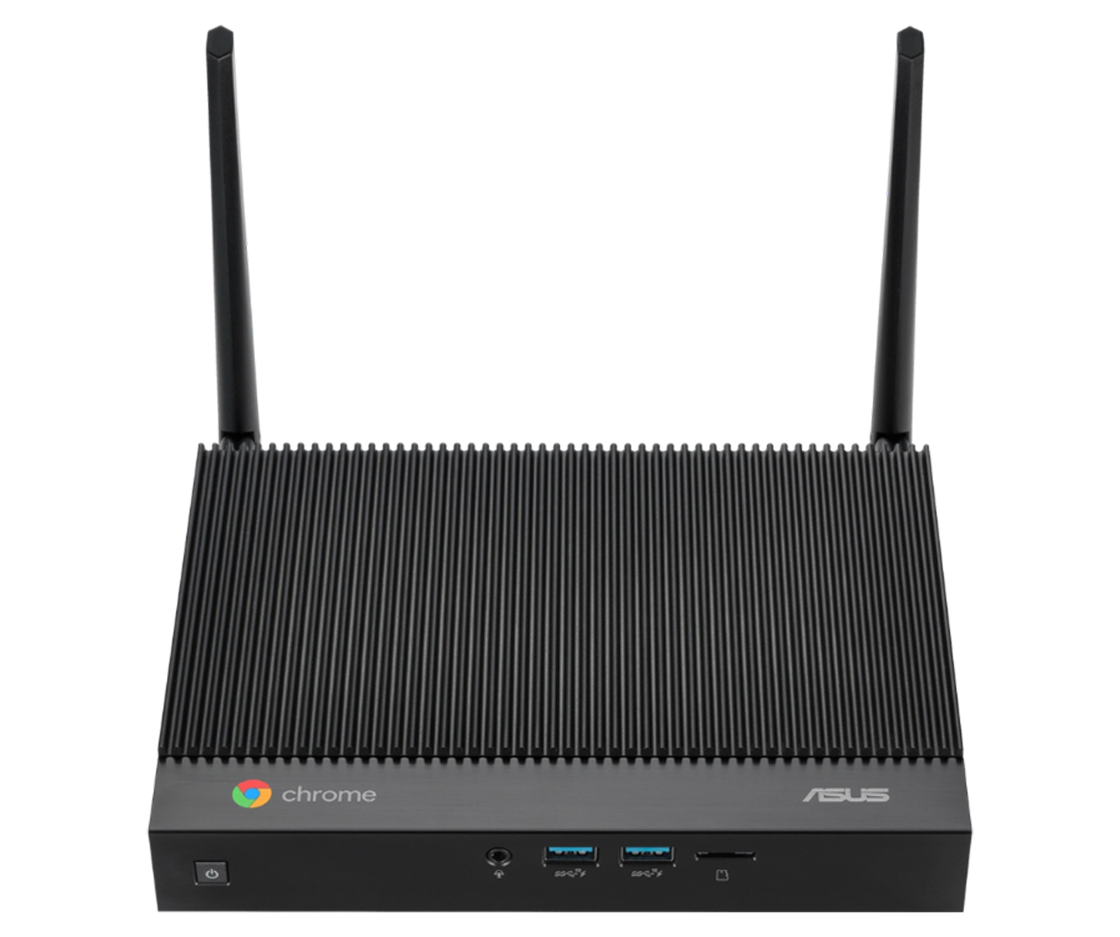 A robust partnership delivering the future of digital signage
ASUS announced a partnership with the software platform company StratosMedia to leverage ASUS Fanless Chromebox in cutting-edge digital signage and kiosk solutions.
These solutions have been utilized by the car-staging company Conquest Staging to maximize impact on potential customers while providing visitor analytics.
ASUS has collaborated with StratosMedia to provide digital signage solutions powered by ASUS Fanless Chromebox that have successfully empowered Conquest Staging in creating interactive, customer-driven car discovery stations. At these stations, visitors can explore targeted information on the most frequently asked questions. The interface of each kiosk is designed to understand visitor interests and requests and to provide insights for car manufacturers.
With the powerful hardware support from the ASUS Fanless Chromebox and the GDPR-compliant software from StratosMedia, detailed, real-time AI analytics help car companies to understand customer demographics and interests, which can then ensure that visitor experiences are optimized and enjoyable.
At 1.2 kg, the lightweight ASUS Fanless Chromebox enhances a wide range of applications — including for digital signage, kiosks, warehouses, point-of-sale, and wayfinding — and is the first fanless Chromebox to launch with a 10th Generation Intel®processor for excellent performance.
Supported by Google Chrome OS with built-in Google Play, automatic updates ensure that the device always has the latest software and protection to stay safe from viruses, malware, and other security issues. Additionally, ASUS Fanless Chromebox has undergone rigorous tests for 24/7 reliability.
Following a high level of satisfaction at the digital signage solutions from ASUS and StratosMedia and in light of the stages and presentations receiving high traffic volume, the response from car manufacturers has also been positive. The real-time user analytics and other benefits provided by these kiosks are demonstrating a strong return on investment.
In the future, ASUS seeks to engage with more verticals in digital signage solutions to expand uptake of ASUS Fanless Chromebox and to continue to provide customized customer journeys with incredible product performance.
_________________________________________________________________________