StratosMedia for Retail
Cloud-based content, network and operations management/support solutions delivering accessibility with the highest levels of security
No complex networking required. All that is required for content and network management is a computer with internet access. Your remote playback devices need nothing other than internet connectivity via a cable, wifi or a mobile data connection. StratosMedia delivers total ease of management in conjunction with class-leading security.
Class-leading interactive visual content delivery solutions with offline to online conversion reporting
Create dynamic interactive on-screen experiences without any coding required. StratosMedia content toolset delivers the ability to easily create and manage engaging interactive display content without the headaches. Allow your audience to continue the experience and take your message with them for recall on their own device at a later time and measure this via StratosMedia offline to online conversion capability.
Ensure consistent brand-to-consumer experiences in-store
Manage your visual messaging your way. StratosMedia Core ensures that the right stakeholders with the right permissions have access to the ability to manage the displayed content or even part of displayed content. Easily take control of your branding whilst also allowing multiple stakeholders across multiple locations to be engaged in the process.
Gain insights on your audience and their engagement
No more guesswork required. Get real data on your audience's engagement. StratosMedia's kiosk solutions provide anonymous gender and age analysis* as standard in conjunction with data on interactive content engagement so you can make informed decisions based on real feedback.
Integrate with POS to promote and sell targeted items in real-time
Plug in your point of sale data and deliver real-time information relating to stock and pricing directly to your customers.
Manage your vendor digital co-op advertising instore
The StratosMedia Campaign Manager module is an ideal solution for large organisations with multiple vendors wishing to leverage the available digital promotional real estate and foot traffic to monetize the network.
Reduce or eliminate the costs associated with traditional printing and shipping
Lessen your organisation's ongoing ecological footprint and achieve greater efficiency and responsiveness*.
*when used with suitable hardware.
Mixed-use application delivery of both customer-facing content as well as employee-facing content such as training material out of hours
Multi purpose your message delivery capability. Build and deliver content for your employees and schedule out of hours delivery.

Spotlight on Interactive and Kiosk application
Retail applications made easy with simple interactive content creation for touch content

Gain rich data insights into audience engagement. Track navigation, session times, and the path of engagement using advanced user analytics including anonymous gender and age analytics

Measure online to offline conversions to drive continuous improvement

Integrate SMS and email send capability

Build self-service and check-in solutions including keyboard login, QR and barcode scanning and printer options for loyalty redemption**

Integrate survey capability 

Create Multi-screen interactive applications for an immersive experience

Integrate remote assistance applications for real-time two-way interactions**

Build personalized kiosk experiences for 1-1 personnel training 

Custom API Integration 
Survey Tool
Data Carousel Tool
Monitor user engagement via reporting and trigger desired content by utilizing our inbuilt anonymous gender and age analytics tool.
Online to offline conversion
Measure and report on user navigation, and online to offline conversions, to drive continual improvement across your business.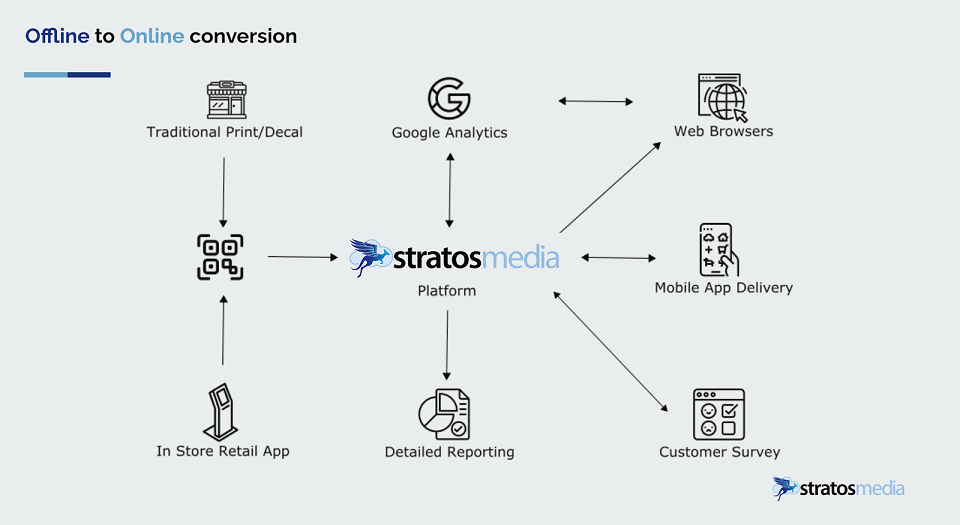 Step 1
A QR Code can either be printed and displayed via traditional print, or via a add on decal.
Or a custom QR code is generated on the fly off a digital signage or Retail Application Display.
Step 2
StratosMedia processes the URL sent by the phone and then can either send it to either a targeted page on the website, Mobile App or Progressive web app, or off to a StratosMedia survey or mobile retail application. 
Step 3
Either the website or mobile app can send data back to Google analytics, for example, for tagging and user_id customer profiling, as well as send information back to the StratosMedia platform for real time reporting.
Step 4
StratosMedia can then analyze data from google analytics as well as pair it with metrics gathered from the insights gathered from the store, to build a complete picture.
Step 5
Detailed reporting can be created and presented from all the data providing a complete insight into the consumer process.

DELIVER AND MANAGE SPECTACULAR VIDEO WALLS WITHOUT THE HEADACHES
The StratosMedia video wall toolset allows you to deliver your content, your way.
Using industry-leading technology, the StratosMedia video wall builder enables you to deliver and manage even the most complex of video walls in minutes. StratosMedia video walls are easy to manage and support all styles of hardware configuration, screen technology and importantly can manage very large scale native pixel counts.

For more information about StratosMedia's videowall capabilities,
please click here
.
Interactive Kiosk
& Retail Experiences
Retail Video and Images
AllSaints – Fashion Retailer
AllSaints is a British fashion retailer with over 230 stores, and 3,200 employees across 27 countries.
The Challenge
The solution needed to be cross-platform to allow the use of legacy hardware with a desire to migrate fully to Chrome OS post refresh
Global deployment with central messaging management from the UK
The requirement to deliver rich media content with minimal bandwidth use
Need to serve both standalone and pop up stores/shop-in-shop scenarios
Drive any display including LCD and projection to allow for flexible in-store digital design
The StratosMedia Solution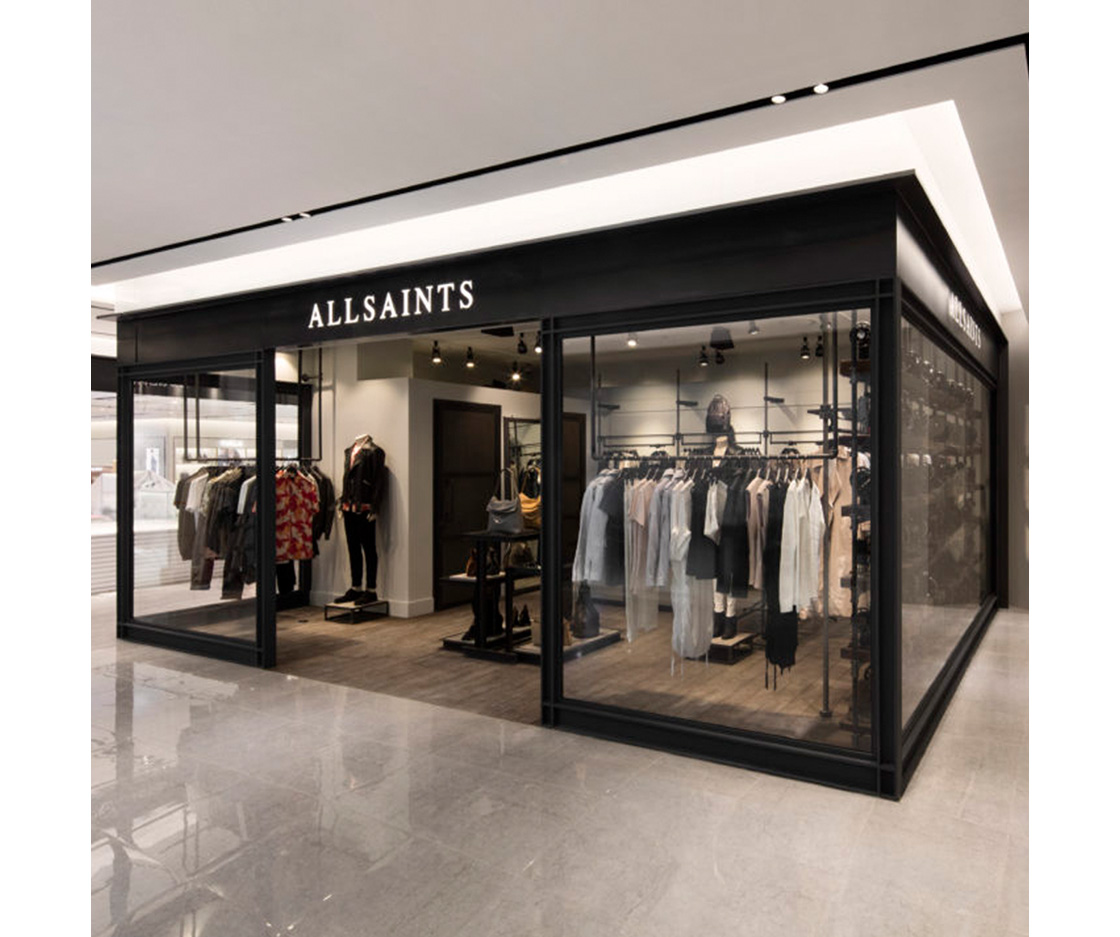 Customer Experience Kiosk
HP – Europe | South Africa
HP Inc, is a world leader in the manufacture and sale of personal computers and printing solutions. A Fortune 500 company with a global footprint.
The Challenge
HP desired a single platform to manage all digital point of sale and signage material across various continents, and able to deliver in multiple languages
The ability to deliver bespoke interactive content with full reporting around engagement with displays
The necessity to gain rich data insights into audience engagement
The StratosMedia Solution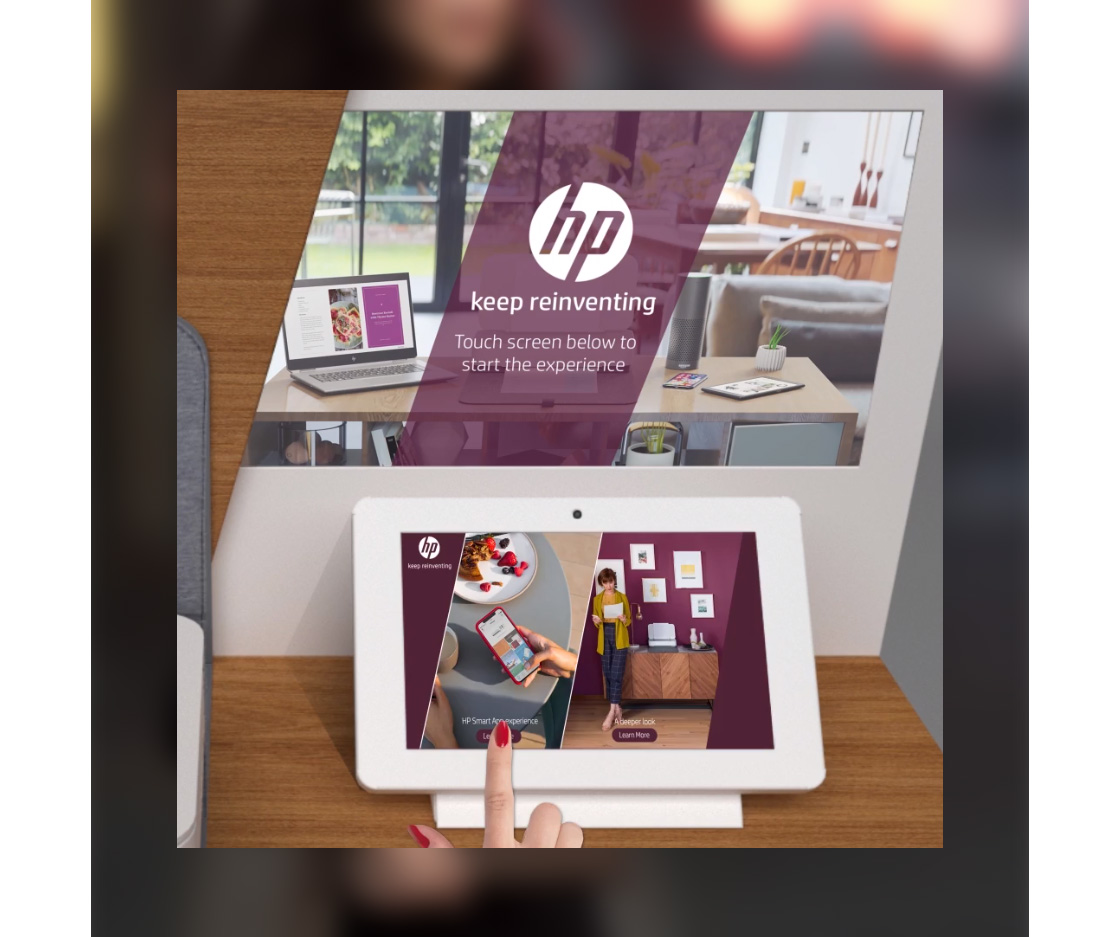 Information Kiosk & Video Walls
Lexus USA – Lexus Corporate Headquarters & Dealerships
Lexus takes inspired design, relentless innovation, and uninhibited performance and turns them into passionate, moving experiences.
The Challenge
Increase employee engagement, reinforce corporate culture and communicate a consistent brand message through a new dynamic, video-centric, digital communications platform
Integrate legacy interactive content into a new platform
Create a custom API integration with Lexus's existing asset management software
The StratosMedia Solution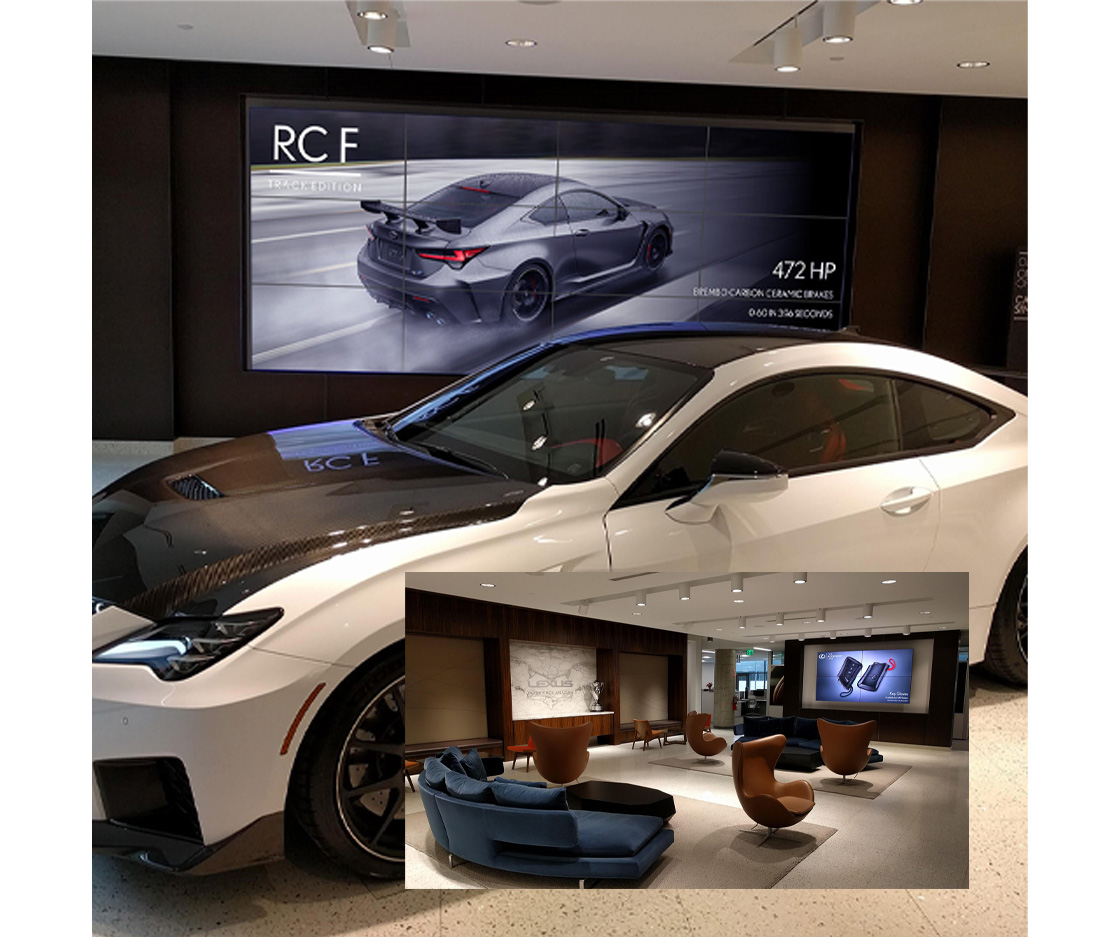 Directional & Information Kiosk
Queensbay Mall – Malaysia
Queensbay Mall on Penang Island features 5 retail levels of international and home-grown brands.
The Challenge
The desire to create interactive directional, promotional kiosk, and digital signage content to enhance the experience of visitors
Content needed to be able to be amended on an ad-hoc basis and in real-time by multiple stakeholders
Deploy without the need for a complex network configuration
Interactive kiosks needed to be technically secure to ensure misuse by the public was impossible
The StratosMedia Solution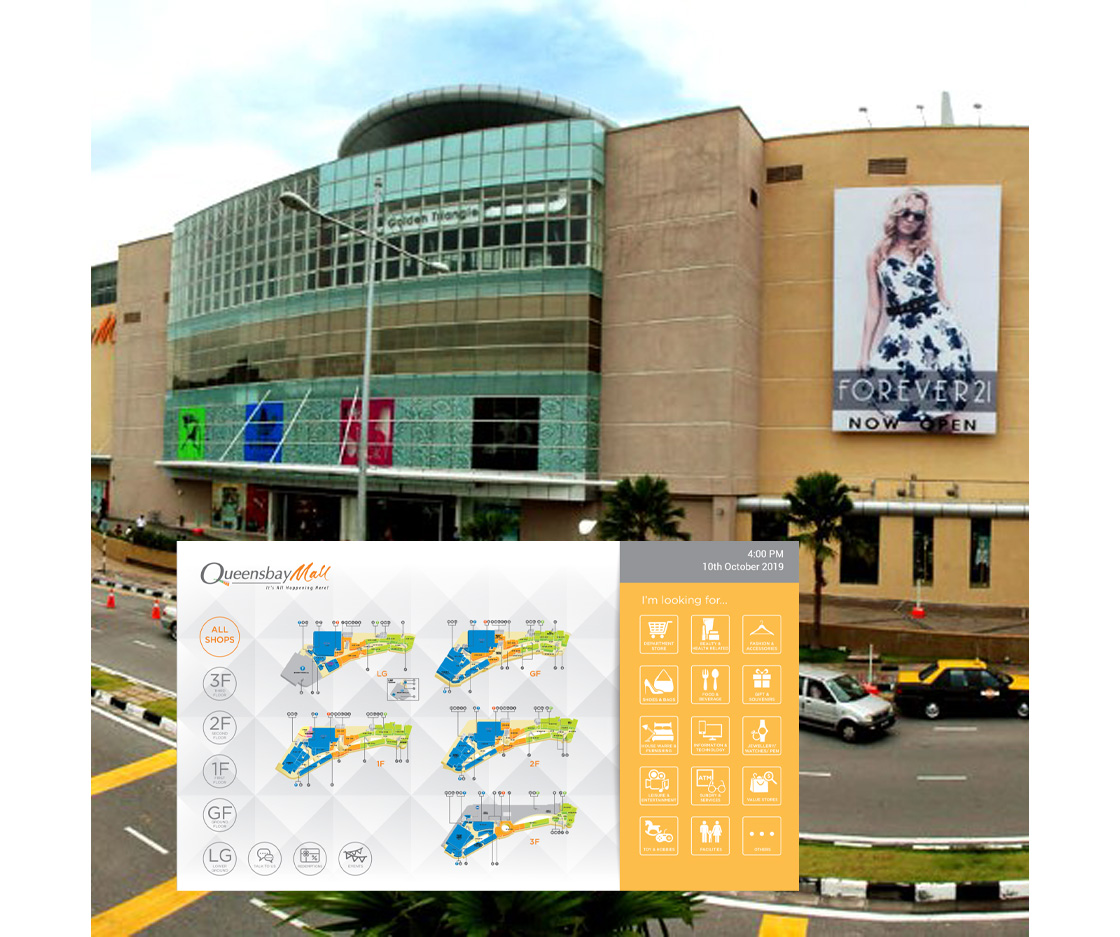 Programmatic Advertising
Campaigns
Campaign based content
Virgin Australia – VA Lounges  |  Ad Network
Based in Sydney Australia, Virgin Australia's internal Ad Group monetize foot traffic across the lounge network.
The Challenge
Deliver content based on real-time events
Ensure relevant share of voice to advertisers
Provide proof of play for chargeback
Automate scheduling and distribution of campaigns on a customizable basis by event, date range and or dayparting
The StratosMedia Solution